Update on the Māori Trustee Response to Cyclone Gabrielle
With the impact of Cyclone Gabrielle still very much on the minds of all, the Māori Trustee, Dr Charlotte Severne, has acknowledged the manaakitanga shown by volunteers and communities during this difficult time, but highlights that there is still much mahi to be done.
The Māori Trustee administers, as trustee or agent, over 600 land blocks on behalf of owners in the Gisborne and Hawke's Bay regions.
"Since the cyclone hit in February, we have been focused on understanding the impact of the Cyclone, reaching out to lessees of these blocks through email and phone to gather information on the impact and the level of support our lessees need now and in the medium term," says Dr Severne.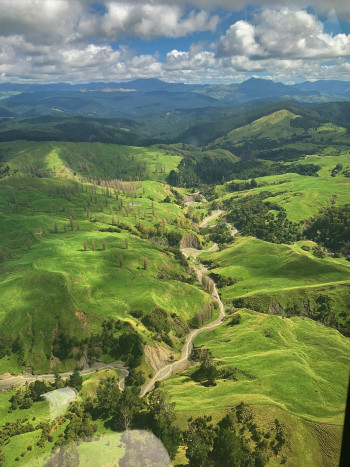 "Kaimahi from our Tairāwhiti office have worked alongside representatives from the Ministry for Primary Industries and Te Puni Kōkiri to visit locations and encourage lessees to apply for cyclone relief funding."
To date, over 400 lessees have provided information about the whenua they lease which has helped to identify the impacted whenua. The aim now is to get inspectors out to those areas to provide a full and detailed assessment of the impact to the whenua and identify the level of support required in the recovery.
While regional kaimahi have been on the ground, Dr Severne and other Pou Arahi have been engaging with Cyclone Response Ministers and the Minister for Māori Development to share our insights and ensure that the voice of whenua Māori owners is included in cyclone recovery planning.
"We have also been connecting with industry groups and local Māori providers to identify where we can support and share resources to help businesses and communities."
Behind the scenes, we have integrated new data into our geographic information systems (GIS) that has allowed important visual analysis and monitoring of the impact on whenua by Cyclone Gabrielle.
More recently, the Māori Trustee has agreed to include approximately 650 further unadministered Māori land in its inspection and damage assessment programme.
Important restoration work has in some cases already begun and is expected to accelerate as government funding packages are confirmed for whenua Māori.
Dr Severne wanted to thank everyone involved in supporting the communities and businesses that have been ravaged by the flooding.
Related stories:
Notice to owners of unadministered Māori land in Tairāwhiti and Takitimu | Te Tumu Paeroa